Longhorns Blog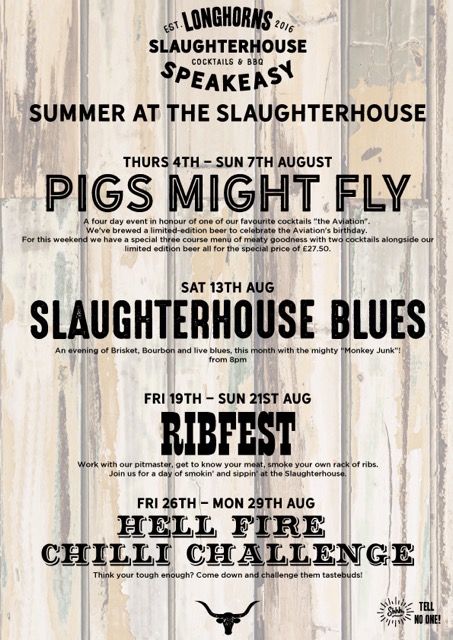 02/08/16 4:38:56 PM | Events | Food | News | Slaughterhouse Speakeasy.
Summer at the Slaughterhouse.
Summer is shaping up to be busy at the Slaughterhouse.
Join us at the Slaughterhouse Speakeasy this summer for various events from our very own prohibition speakeasy at Longhorns Jesmond.
First up, may we present 'PIGS MIGHT FLY'….
..a four day event in honour of our badass barbecue and one of our favourite cocktails, "the Aviation". We've brewed a limited-edition beer to celebrate the Aviation's birthday and that's not all- Believe it or not, we're also throwing in a special three course meal to be enjoyed alongside two cocktails and our limited edition brew – all for only £27.50.
Thursday 4th – Sun 7th August.
Secondly, THE SLAUGHTERHOUSE BLUES are back!
If you've still not heard about our famous blues sessions aka The Slaughterhouse Blues, it's about time you swung by.
Join us at the Speakeasy on Saturday 13th August from 8pm for an evening of brisket, bourbon and live blues.
Next up at the slaughterhouse is our very own RIBFEST!
The name pretty much gives it all away but there's more than MEATs the eye….Work with our Pit master, get to know your meats and smoke your own rack of ribs. Join us for a day of smokin' and sippin' from the slaughterhouse. Friday 19th – Sunday 21st August.
Finally we welcome THE HELL-FIRE SPICE CHALLENGE sweeping through the Slaughterhouse like wild fire on Saturday 27th August.
Come down and challenge those tastebuds. This one is only for the brave or very stupid with numerous extreme heat challenges. Not for the faint hearted.
Back to blog